Snow Queens (Mila/Jackie) #56: Because No Spy Would Dump Jackie
Welcome to the Mila Kunis/Jackie Burkhart Appreciation Thread!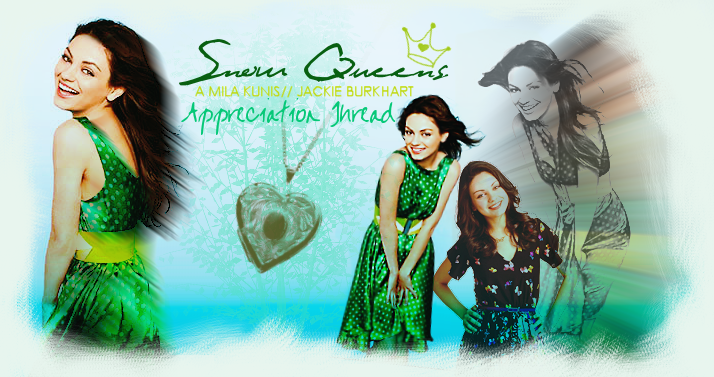 Banner By: Ria (Pickle-weasel!)
Milena Markovna Kunis was born on August 14, 1983 in Kiev, Ukraine. At the age of seven, Mila and her family fled Kiev and moved to the United States. To learn English, she watched television and credits Bob Barker and the Price is Right for teaching her the language.
At age nine, Mila started to take after-school acting classes at the Beverly Hills Studio. At one of the Studio's public showcases, Mila was approached by entertainment manager Susan Curtis, who offered to take her on. Her first acting jobs were mainly bit parts in "The John Larroquette Show" and "Baywatch" and films such as the made for TV movie Piranha and Santa With Muscles staring Hulk Hogan. Eventually, she landed recurring roles on the television series "Nick Freno: Licensed Teacher" and the popular "7th Heaven." She started gaining notice in the industry after the played the younger version of Angelina Jolie in the Golden Globe winning film Gia.
In 1998 she famously won the role of Jackie Burkhart on the beloved sitcom "That 70s Show" after telling the casting agents she was going to be 18 on her birthday... She just neglected to tell them which birthday. They let the little white lie go and cast her in the series. During her eight year run on the show, she stared in films such as Get Over It, Tony N' Tina's Wedding, American Psycho II: All American Girl and Tom 51. She also voices Meg Griffin in the widely popular cartoon "Family Guy," has played many characters on Comedy Centrals "Robot Chicken" and voiced 'Tanya' in the video game "Saint's Row."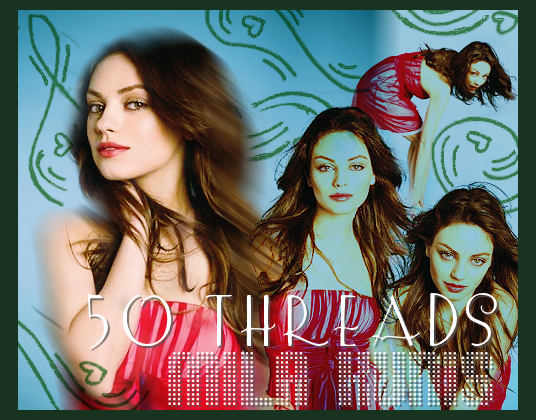 Banner By: Ria (Pickle-weasel!)
Since the end of That 70s Show, Mila has been very busy in the film industry. She has become some what of an 'Indie Girl' making films like After Sex and Moving McAllister. Her films Boot Camp co-staring "Everwood" star Gregory Smith, 2008's action thriller Max Payne with Academy Award nominee Mark Wahlberg, the Judd Apatow produced comedy Forgetting Sarah Marshall co-staring Jason Segel, Kristen Bell, Jonah Hill and Paul Rudd and last September's new Mike Judge comedy Extract staring Jason Bateman and Ben Affleck. In January, 2010, Mila starred with Academy Award winner Denzel Washington in the action-adventure film The Book of Eli. She has also recently made a cameo for the film Date Night with an all star cast including, Tina Fey, Steve Carell, James Franco, Kristen Wiig and Mark Ruffalo. All films mentioned are now available on DVD.
Her film Black Swan, from director Darren Aronofsky, finally helped her catch the eye of Hollywood, by playing Lily in the film. The movie earned her a Critics Choice, Screen Actors Guild and Golden Globe nomination.
One thing that really sticks out about Mila Kunis is that she is very gracious. She never forgets where she came from and that makes her appreciate what she has now. She's hilarious, smart, beautiful and one of the nicest celebrities and you will ever meet and isn't afraid to embrace her inner geek.
Mila's Resume
Movies

Hell & Back (2014) (post-production) .... Deema (voice)
The Angriest Man in Brooklyn (2014) (completed) .... Sharon Gill
Jupiter Ascending (2014) (post-production) .... Jupiter Jones
Third Person (2013) .... Julia
Blood Ties (2013) .... Natalie
Oz the Great and Powerful (2013) .... Theodora
Tar (2012) .... Catherine
Ted (2012) .... Lori
Friends with Benefits (2011)
Black Swan (2010) .... Lilly
Date Night (2010)
The Book of Eli (2010) .... Solara
Extract (2009) .... Cindy
Max Payne (2008) .... Mona Sax
Forgetting Sarah Marshall (2008) .... Rachel Jansen
Boot Camp (2007) .... Sophie
Moving McAllister (2007) .... Michelle
After Sex (2007) .... Nikki
Family Guy Presents Stewie Griffin: The Untold Story (2005) (V) (voice) .... Meg
Tom 51 (2005)
Tony N' Tina's Wedding (2004) .... Tina
American Psycho II: All American Girl (2002) (V) .... Rachael
Get Over It (2001) .... Basin
Milo (1998) (uncredited) .... Martice
Krippendorf's Tribe (1998) .... Abbey Tournquist
Gia (1998) (TV) .... Gia at Age 11
Honey, We Shrunk Ourselves (1997) (V) .... Jill, Party Guest
Santa with Muscles (1996) .... Sarah
Piranha (1995) (TV) .... Susie Grogan
Make a Wish, Molly (1995) .... Melinda
Television

"The Cleveland Show" .... Meg Griffin (1 episode, 2009)
Family Guy .... Meg Griffin / ... (114 episodes, 1999-2009)
Robot Chicken" .... 'Multiple Characters' (9 episodes, 2005-2009)
Family Guy (2006) (VG) (voice) .... Meg Griffin
That '70s Show .... Jackie Burkhart (200 episodes, 1998-2006)
Grounded for Life .... Lana (2 episodes, 2004)
Get Real .... Taylor Vaughn (2 episodes, 2000-2002)
Mad TV .... Daisy (1 episode, 2002)
Pensacola: Wings of Gold .... Jessie Kerwood (1 episode, 1998)
7th Heaven .... Ashley (4 episodes, 1996-1997)
Nick Freno: Licensed Teacher .... Anna-Maria Del Bono (5 episodes, 1996-1997)
Walker, Texas Ranger .... Pepper (1 episode, 1997
Unhappily Ever After .... Chloe (1 episode, 1996)
Baywatch" .... Anne / ... (2 episodes, 1994-1995)
Hudson Street .... Devon (1 episode, 1995)
The John Larroquette Show .... Lucy (1 episode, 1995)
Video Games

Saints Row (2006) (VG) (voice) .... Tanya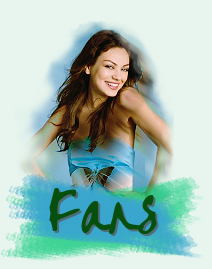 1) Christina (jackiehydelover)
2) Stephan (irishghost)
3) rummagingforanswers
4) TrueLoveBeliever346
5) Chrissy (retro physical)
6) Michelle (luvcali76)
7) Jenna (simplybatty)
8) JF1994
9) Mel (Enigma)
10) debbie325
11) Jessica (SpunkiiMonkii7078)
12) Ashley (LoveIS)
13) fastforward
14) Brandon (Californian)
15) varjak-golightly
16) Rory (MilaKunisLover)
17) jenny09123
18) Rhiannon
19) smunyang
20) Saar5
21) Claire (ctas)
22) Ash (Ellipsis)
23) Numb
24) slicknickshady
25) xMrsJackieHyde
26) zfehrian
27) Courtney (Majora's Mask)
28) Erin (Erin_Go_Bragh)
29) xlennie
30) Kush (wingster)
31) Cloudburst2000
32) Julia (StillrockininWisconsin)
33) Leyton_4ever
34) MeganMila
35) SLK89
36) - Nina -
37) K.Corinne
38) barrette
39) Jackie85
40) Poupa
41) Bre (Bre723)
42) Nerenafan
43) stratusfying
44) michelleackles
45) martha(brucas&jeyton)
46) blazing star
47) mrandmrsjackiehyde
48) V-Nessa
49) Edward_Bella1988
50) Rachel2091
51) spacegirl23
52) loveslullaby
53) tvgirl94
54) thepoison
55) ღButterfly Kiss
56) Hello_Sunshine
57) Lulu (Grazzhopper)
58) Gabby (mytubablows)
59) TaftCat
60) Creamsodaqueen
61) Alexa
62) karevluvsstevens85
63) XXREESE1XX
64) loganandroryforever
65) P&B4ever
66) Josie2288
67) msstock87
68) MagicBus
69) taysgurl
70) jakesprincess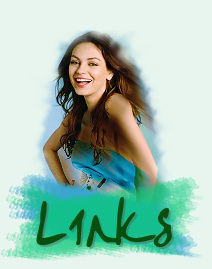 Mila's IMDB Page
Mila Kunis Online
Mila Kunis LJ Comm
Mila - AskMen.com
Mila Kunis - Celebrity Link
Mila Kunis - Starpulse
Animations by Saar


Happy Posting

banner By: Jenna (simplybatty)
Previous thread here.
Related News: